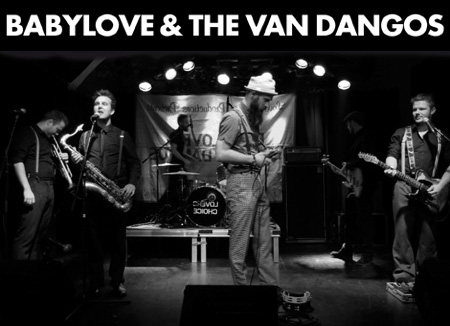 BABYLOVE & THE VAN DANGOS: "Any Port In A Storm" 7"
Format: 7" - black vinyl
Catalogue no.: TU-003 / REASON-017
Release date: May 16th 2014
Quantity: 500 hand numbered copies
Track list:
Side A - The Chicken Side: Any Port In A Storm
Side A - The Egg Side: Any Port In A Storm
After 5 days of speeding up and down a snow-covered autobahn in a van that had chosen freezing Germany as the ideal place to give the heater a couple of days off, the cozy and warm Lovelite studio in Berlin was a sight for sore eyes. Never having met Jochen, who were to record us, we were very eager to get to know him and the place. There were stacks of tapes, vinyls, recording equipment and a coffee machine that was even more unpredictable than our car. Everything in there had a vibe to it and in no time we were convinced that we'd come to the perfect place for what we had in mind. To record what unmistakably was the same song, in versions that would hopefully take you to two different places.
You see, this is a song that wanted to be more than a song. It wanted to be two songs and who are we to stand in the way of ambition and bravado.
As it is the first song to my first-born I've been very keen on recording it ever since it started falling into place. I remember saying to the guys after every rehearsal that they'd have to release the rehearsal tapes, should I have the bad luck of walking under a bus. At the time of writing, I have not.
The song sprung from the realization that I would literally do anything for this little girl. Go anywhere, sacrifice anything, kill anyone…and it scared the hell out of me. It probably always will.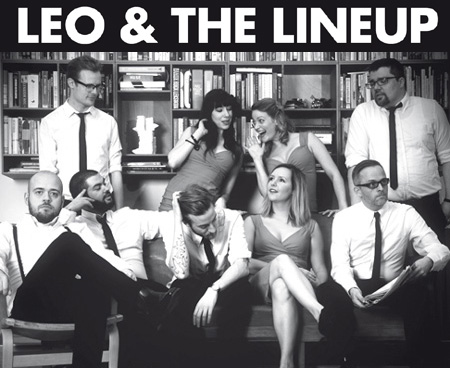 LEO & THE LINEUP: "Run-Around b/w Gotta Go" 7"
Format: 7" - black vinyl
Catalogue no.: TU-002 / REASON-015
Release date: December 13th 2013
Quantity: 500 hand numbered copies
Track list:
Side A: Run-Around
Side B: Gotta Go
Here is the 2nd TIGHTEN UP release, showcasing sounds from one of the most exciting new Ska/Reggae bands in Denmark, LEO & THE LINEUP!
This 9-piece outfit toes the line between ska and reggae, with a heavy dose of soul. Frontman Kevin Leo delivers his charismatic attitude directly to your face, backed up by 3 gorgeous ladies in red. The supertight rhythm section is lifted up by inventive organ stylings, and it all hits the ceiling when the horn section starts to blow!
Leo & the Lineup released their self-titled debut album in 2012 to critical acclaim and we are proud to announce our current release featuring two new songs by the band, recorded exclusively for the TIGHTEN UP imprint.
"Run-Around" is a certified live classic and a proper footstomper. It gets the joints warmed up and the timeless theme is simply irresistible. "Gotta Go" is an up-tempo gem that tells a little story about the ups and downs of romance in the rock 'n' roll world. These songs are bona fide party starters. It's spot on....It's LEO & THE LINEUP!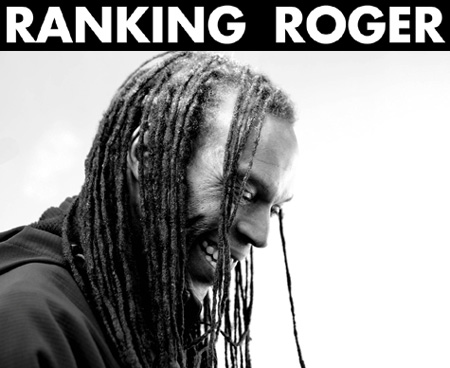 RANKING ROGER: "Muscle Ska b/w Civilization" 7"
Format: 7" - black vinyl
Catalogue no.: TU-001 / REASON-014
Release date: August 16th 2013
Quantity: 500 hand numbered copies
Track list:
Side A: Muscle Ska
Side B: Civilization featuring Sly & Robbie
When the idea of our new label imprint, TIGHTEN UP, was finally shaping up I could not have pictured a better way to kick it off.
To be honest I didn't know where to start at all when the checkered flag had gone down and the amazing label artwork was staring right at me. So approaching Ranking Roger (The Beat, General Republic, etc.) was solely based on naive hopes of being involved in a legendary artist's everexpanding discography. In no way did I realize that this could actually happen; and surely not in shape of a project consisting of these 2 amazing tracks - one of his strongest and most memorable ska tunes and a previously unreleased song featuring Sly & Robbie.
"Muscle Ska", as the name bursts out, is a powerful ska song co-written by Neville Staple that draws heavily on the message of the 2-Tone era. A message of unity that remains equally important today. Upbeat and overly dance friendly. "Civilization", featuring Sly & Robbie, has a mesmerizing theme and deals largely with the hypocrisy and bigotry of modern civilization.
It's spot on – it's Ranking Roger!